Ściana wirtualna - Co to takiego?
---
Czasem zachodzi potrzeba podziału pomieszczeń nierozdzielonych ścianami na części funkcjonalne (np. Salon i Aneks Kuchenny) o różnej powierzchni.
ZWCAD Architecture zlicza powierzchnię pomieszczeń automatycznie, na podstawie obrysu ścian. I tak w przypadku pomieszczeń, które są ze sobą połączone, powierzchnia z automatu jest liczona łącznie dla całości.
Aby rozdzielić pomieszczenia do utworzenia zestawienia pomieszczeń należy rozdzielić je za pomocą tzw. Ściany Wirtualnej. Ściana wirtualna jest to ściana o grubości równiej 0mm, która pozwala wykonać funkcjonalny podział pomieszczeń, które są ze sobą połączone (nierozdzielone ścianami). Ścianę tą rysujemy tak jak standardową ścianę, ale określając typ ściany jako Ściana wirtualna.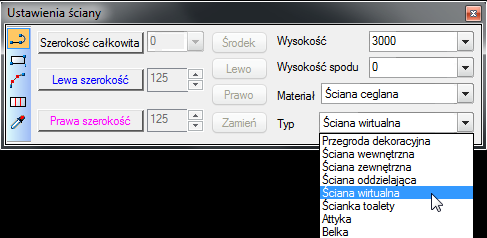 Po rozdzieleniu pomieszczeń ścianą wirtualną będą one wliczane osobno do opisu i zestawienia pomieszczeń.